Bohdan-Ivan Horodyskyi, Ukraine's record holder in half-marathon, won the Championship of Ukraine on the half marathon course within the 11th WORK.UA KYIV HALF MARATHON 2021 from Run Ukraine, which took place in Kyiv.
Horodyskyi won with the result of 1:03:41, thus meeting the qualification requirement for the World Championship 2022, which is to take place in China on March 27 (the qualifying standard for men is 1:04:00).
"I ran the first two kilometers in a group and then ran at my own pace. Had the competition been more intense, it would be easier to run the course. The weather also took its toll, but I am satisfied with the result", — said Bohdan-Ivan Horodyskyi regarding his victory
Yevheniia Prokofieva, the participant of the Olympics-2020, became the Champion of Ukraine in half-marathon among women. The athlete finished with the result of 1:14:33. However, she could not qualify for the World Championship with this result (the qualifying standard for women is 1:13:30).
If Prokofieva mee3ts the qualifying standard during the next international half marathon race within the qualification period, she will secure her place on the World Championship team.
The Championship of Ukraine in half marathon was organized by the Athletics Federation of Ukraine together with Run Ukraine. Among the participants, there were Ukraine's record holders, participants of the Olympics and World Championships in half marathon: Bohdan-Ivan Horodyskyi and Yevheniia Prokofieva, Daria Mykhailova (Tokyo-2020), Mykola Nyzhnyka (Tokyo-2020), Ihor Russ (Rio-2016), Yurii Rusiuk (World Championship-2017) and others.
This year, 6170 runners from Ukraine and other countries came to participate on various courses of the 11th WORK.UA KYIV HALF MARATHON 2021.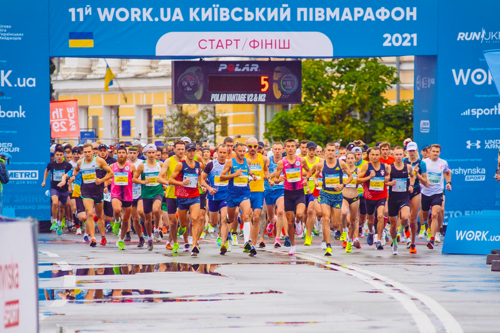 "Today, participants could test not only their physical endurance but also the endurance of the spirit. The 11th WORK.UA KYIV HALF MARATHON 2021 happened, and what matters most is that everyone came to the finish line happy and healthy. It was our return after a long quarantine. It was the return of a sense of celebration of running when all participants are one community, everyone knows each other, everyone feels like a family. When you experience these emotions, you are reassured that it is essential to organize such events. It is important to motivate people to new challenges.
I would like to thank all of those who joined us today. See you next year", — said Dmytro Chernitskyi, the CEO of Run Ukraine.
We would like to remind you that the 11th WORK.UA KYIV HALF MARATHON 2021 is the third stage of the Ukrainian Majors Running League 2021 from Run Ukraine. 
This year the Running League includes five events:
Organizer — Run Ukraine
Title partner — Work.ua