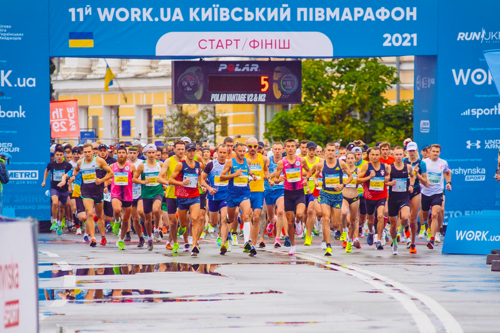 On  September 18-19, Kyiv hosted the 11th WORK.UA KYIV HALF MARATHON 2021, the third stage of the Ukrainian Majors Running League from Run Ukraine. The event also included the Championship of Ukraine in half marathon, which served as a qualification race for the World Championship 2022.
The winners on the main course in absolute championship and Championship of Ukraine are Bohdan-Ivan Horodyskyi, the record holder in half marathon in Ukraine, and Yevheniia Prokofieva, participant of Olympics 2020.
Men had an intense and close competition for victory. Bohdan-Ivan Horodyskyi was the first right from the starting line. On the 5th kilometer, his nearest rival, Dmytro Siruk, was only 11 seconds behind the leader. They ran almost next to each other until the 10th kilometer, but on the 15th kilometer, Horodyskyi accelerated and finished the first with the result 1:03:41, thus winning the Championship of Ukraine.
"I ran the first two kilometers in a group and then ran at my own pace. Had the competition been more intense, it would be easier to run the course. The weather also took its toll, but I am satisfied with the result", — said Bohdan-Ivan Horodyskyi regarding his victory.
Dmytro Siruk finished second with less than a 1-minute difference (1:04:32), Mykola Nyzhnyk came in third with the result of 1:04:43. 
The winner among women on the main course is Yevheniia Prokofieva, who took the lead from the beginning and was almost 1 minute ahead of her closest rival even on the 5th kilometer. On the 10th kilometer, she increased the distance and finished first with the result of 1:14:33.
"I was hoping to get some rest after the Olympics 2020, so I wasn't putting all my effort into preparation for this race, but I decided to participate in the event since it's the Championship of Ukraine.
I wanted to set the new track record, but it didn't work out today. The road was a bit slippery because of the weather, but I don't want to use it as an excuse. I am overall satisfied with the result", — said Yevheniia Prokofieva about her victory.
Daria Mykhailova (1:16:24), Olympics 2020 participant, finished second, Oleksandra Oliinyk (1:22:17) came in third.
"Today, participants could test not only their physical endurance but also the endurance of the spirit. The 11th WORK.UA KYIV HALF MARATHON 2021 happened, and what matters most is that everyone came to the finish line happy and healthy. It was our return after a long quarantine. It was the return of a sense of celebration of running when all participants are one community, everyone knows each other, everyone feels like a family. When you experience these emotions, you are reassured that it is essential to organize such events. It is important to motivate people to new challenges.
I would like to thank all of those who joined us today. See you next year", — said Dmytro Chernitskyi, the CEO of Run Ukraine.
Besides the main course of 21.0975 km, there were races of other distances: Sportbank Race 10 km and 4.2 km, Veteran's ten, a relay race, and team races.
"Words won't describe what I feel now: wild energy, incredible inspiration, and a desire to hug the whole world! One of the dreams of our big team came true today. The 11th WORK.UA KYIV HALF MARATHON 2021 brought together thousands of runners and fans, uniting them with love for sports, new experiences, and freedom. I am happy that we have such events and can bring together like-minded people under the motto "You can do everything"! And we can overcome ourselves again and again. One kilometer after another", — said Artur Mikhno, co-founder of Work.ua.
6170 runners from Ukraine and other countries came to participate on various courses of the 11th WORK.UA KYIV HALF MARATHON 2021. Among the celebrities participating in the event, you can find singer David Axelrod, coach and TV-presenter Anita Lutsenko, TV presenters Slava Varda and Anatolii Anatolich who set his personal best on a half marathon course 1:57:31.
11th WORK.UA KYIV HALF MARATHON 2021 became an important day in the life of two participants: upon finishing a half marathon course, Artem proposed to his girlfriend, Daria.
The prize fund of the event was 135 thousand UAH. Amon the runners finishing the half marathon, we determined 5 winners in absolute championship among men and women. The oldest participant on the half marathon course was 73-year-old Mykola Velychko from Kyiv.
Winners were also determined in age categories, team races, and relay. All participants were awarded finisher's medals upon finishing their courses.
"I ran this distance last year, so I felt pleasant jitters before the race today. But all the people, the route, and autumn Kyiv inspire and give an energy boost. That's what I have been missing so much. So now I keep practicing for the 12th WIZZ AIR KYIV CITY MARATHON 2021", — said Oleksandra, who ran 21 km.
"I finally ended up on the podium. I had an adrenalin rush from the beginning, so I started fast but managed to keep my pace and come to the finish line. I didn't even realize I was the third on my course since elite runners were running ahead of me. Later I found out that they had a separate podium, so I was delighted with my result", — shared Andrii, who took third place on the 4.2 km course.
"Today I ran 21 km with my friend Vitaliy who supported me and didn't let me slow down, so I was able to set my personal best — 1:23:33. I will run a marathon course on the 12th WIZZ AIR KYIV CITY MARATHON 2021. I hope to finish in 3 hours 5 minutes", — said Volodymyr.
This year the 11th WORK.UA KYIV HALF MARATHON 2021 also included a social component: representatives of the running club for disabled children "Ruka ob Ruku" and participants of the charitable sports project for children with autism "Kids Autism Games" participated in the event. The event also included fundraizing campaigns from the animal protection fund "Happy Paw" and charitable fund "New World Odesa."
To remind, the first day of the 11th WORK.UA KYIV HALF MARATHON 2021, Saturday, September 18, included a Family Race 1.6 km and children's races. 
The winners on the 21.0975 km course in the absolute championship: 
Men:
HORODYSKYI Bohdan-Ivan — 1:03:41

SIRUK Dmytro — 1:04:32

NYZHNYK Mykola — 1:04:43
Women: 
PROKOFIEVA Yevheniia — 1:14:33

MYKHAILOVA Daria — 1:16:24

OLIINYK Oleksandra — 1:22:17
We would like to remind you that the 11th WORK.UA KYIV HALF MARATHON 2021 is the third stage of the Ukrainian Majors Running League 2021 from Run Ukraine. 
This year the Running League includes five events:
Organizer — Run Ukraine
Title partner — Work.ua
Reference information:
Work.ua is job search website No.1 in Ukraine
Run Ukraine is the organizer of the largest running events in Ukraine. Since 2010, the company has held more than 30 international competitions for runners and sports enthusiasts.
Run Ukraine's mission is to organize the highest level sports events to inspire and motivate people to run.
Contacts for the media:
email: [email protected]
Viktoriia Veremiienko 
tel.: 067 995 2767
email: [email protected]