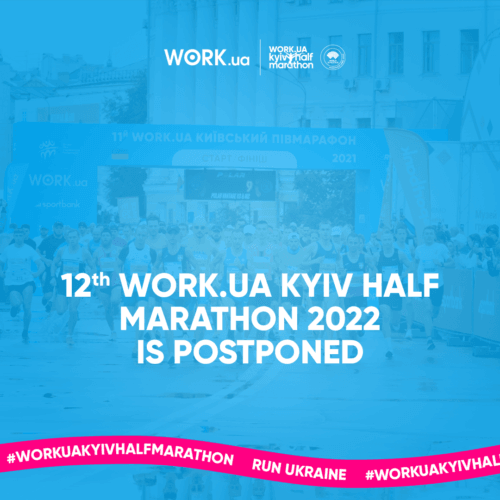 Dear Friends, we regret to report that 12th WORK.UA KYIV HALF MARATHON 2022, which was supposed to take place on April 9-10, 2022, is postponed indefinitely.
We have been looking forward to the start of the new running season and the start of the Ukrainian Majors Running League 2022. We worked on the organization of the 12th WORK.UA KYIV HALF MARATHON – medals were launched into production, and starter packs were almost ready.
But on February 24, 2022 the life of every Ukrainian has changed. Russian troops invaded the territory of sovereign and independent Ukraine. The war changed our present. Today it hurts all over Ukraine. Unfortunately, the usual active social life of every Ukrainian has been suspended for some time.
Pay attention! 12th WORK.UA KYIV HALF MARATHON is postponed, not canceled. All purchased registrations will be valid on the new date.
Every day we receive dozens of messages from you asking for a refund so that you can send money in support of the Armed Forces of Ukraine. We have always known that our runners belong to a big Ukrainian family. Given the situation, the company Run Ukraine is not able to refund participants for purchased registrations, as all money received was used to organize the event.
Please note once again that according to the Rules of the competition, we don't refund for purchased registrations. Refunds are not made in accordance with the Public Offer Agreement, which is accepted by the participant when registering for the event.
We look forward to hearing the coveted word "Victory". We will immediately announce a new date for your favorite running event and invite you to the 12th WORK.UA KYIV HALF MARATHON!
We look forward to meeting you at the start.
We believe in our strength, we will win together 💙💛